We can produce bespoke furniture for your home to your exact specification. You tell us what you want and we can design and build it for you – bedrooms, kitchens, furniture, storage, displays, desks…just about anything and in a wide range of materials such as wood, laminate, marble, granite, glass and metal. See some examples.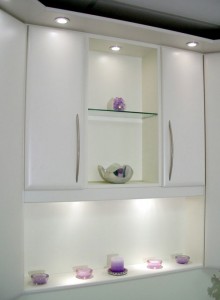 If you are looking for a quality hand made kitchen, an innovative study, a sumptuous bedroom, a tranquil library or state of the art home cinema room we can create your perfect bespoke furniture.
Bespoke furniture specialists
Workshop Projects offer creative, practical designs with meticulous attention to detail, built to last for many years. We'll manage the entire process leaving you free to enjoy the experience of handpicking your materials and design while we take care of the rest.
Kitchens
With modern living, the kitchen is the hub of your home and a place or you and your family to relax, entertain and gather together. We know that it needs to fit in with your budget, style and way of life, so we offer an individual and bespoke service. Imagine a kitchen tailor made to your own specification with timeless appeal and distinguished style which fits beautifully into your life and home. See some examples of our kitchens.
We offer a FREE, friendly and personal design service. We'll visit you in the comfort of your home and advise you on the most creative and practical layout to suit your lifestyle. Our client-focussed team are dedicated to making sure that every inch of your new bespoke furniture is as you want it, so we welcome you to be as involved as much as you choose to be in the design and planning.
Bespoke Bedrooms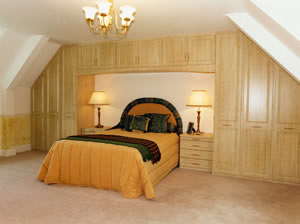 Whether you are looking to completely redesign your existing bedroom, want to create space for a new feature such as a walk in wardrobe, or stripping down your bedroom to scratch and completely transforming your bedroom – a bespoke bedroom can help you achieve this.
We are experts when it comes to finding solutions to maximise your room's potential, we know how space is a commodity and our bespoke bedrooms allow you to make the most of your available bedroom space.
We'll also make sure that your bespoke bedroom features fit perfectly into your budget range so you can achieve that perfect, customised look at an affordable price.
See some examples of our bespoke bedroom furniture.
Call us now on 01883 724920 and speak to one of our friendly, professional team about your bespoke furniture requirements.